SPEX Eyewear Inc – Eyewear for Humans, Profits for Animals
SPEX Eyewear Inc – Eyewear for Humans, Profits for Animals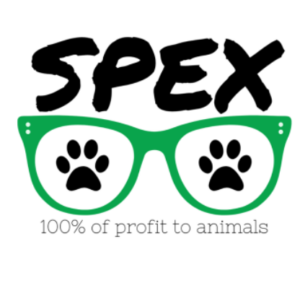 When you think about eyewear, you don't, usually, think about animals. However, with SPEX Eyewear Inc, the two go hand in hand. This AMEOWZING company offers its customers high-quality eyeglasses and sunglasses. AND it also donates 100% of its profits to Animal Rescues! That's right, 100% of their profits will go to Animal Rescues. Now you can get cute new glasses and know that your money is going to animals in need. That means a lot to animal lovers.
Eyewear for Humans
Christy Chand, founder of SPEX Eyewear, has witnessed firsthand the challenges that rescues have to survive and be able to continue the much-needed work that they do. In 2020, Christy started volunteering at her local shelter. She witnessed heart breaking decisions being made due to lack of resources. Over the next couple of years of volunteering, she noticed that her volunteer work was becoming more and more fulfilling than her "real" job as a professor. She knew a change was needed.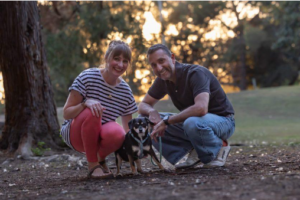 Christy with her husband, Sid and their dog, Freddie.
After moving to Fresno, she ran across an online eyewear company that was getting ready to go out of business. After some communication, she was introduced to their lens maker, Bruce, who was willing to continue his lens making for SPEX while Christy handled the business side. Both being animal lovers, they decided to do things a little different than the other online eyewear companies. Giving back was very important to them and the decision to give back to animal rescues was a no-brainer.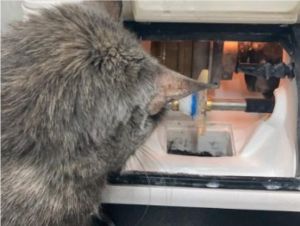 Bruce's cat, Willow – Chief Lens Making Inspector.

Another aspect that was very important to both Christy and Bruce was to provide high-quality customer service. Buying eyeglasses online can be intimidating to most people. Not being able to try the glasses on before purchasing can be a turnoff to some people. Christy is determined to provide the absolute best customer service possible. She will spend as much time as needed with a customer to ensure that they are completely satisfied with their purchase. Definitely something that you don't find a lot of anymore.
Profits for Animals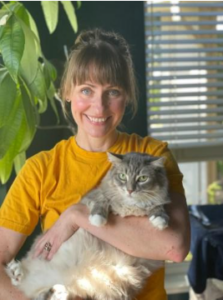 Christy Chand, founder of SPEX, and her cat, Elbee
Since their start, SPEX Eyewear has been partnered with many rescue organizations to help impact the lives of many animals. Customers can choose one of the SPEX Friends to donate to or they can donate to their own nonprofit of their choice. If you choose to donate to one of SPEX Friends, you can also receive a 10% discount code for your purchase. It's a win win for all involved, especially the animals.
When Christy heard about Mission Meow, she knew that this was an opportunity to continue to help impact the lives of cats in need. Mission Meow is now a part of the SPEX Friends program. If you are in need of new eyeglasses or sunglasses, contact Christy. Not only will you be able to save 10% using the code Meow10, but 100% of the profits from your purchase will go to Mission Meow and help create meaningful change. I can't wait to order my pair, or two or three.
Sally wearing Mission Meow t-shirt.
"When I look into the eyes of an animal, I do not see an animal, I see a living being, I see a friend, I see a soul."
– Anonymous
Slow blinks,